4/7/2005: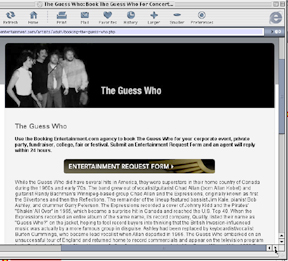 Another interesting tidbit that one of our posters uncovered: an entertainment company where you can book The Guess Who for gigs. The problem? First, they say "The Guess Who" but show an old photo of Cummings with BTO. Secondly, they list the lineup of the version of TGW who were touring in 2000, i.e. Bachman, Cummings, Peterson, McDougall and Wallace. But nowhere do they list the roster of the band they are actually representing. Another company practicing deception and faulty advertising? Or maybe they don't know exactly who they are representing...

3/18/2005:
It was brought to our attention that a company called ENTERTAINMENT & TRAVEL ALTERNATIVES, INC. began advertising a Classic Rock Cruise, featuring Randy Bachman and Burton Cummings. Their webpage not only listed those names on 3/17, but they even showed a photo of the two of them in concert, circa 2001.

In less than 24 hours, the webpage changed...the photo of Bachman and Cummings was removed, and the names of those two were replaced with Jim Kale and Garry Peterson.

A few hours after that...the webpage changed yet again! Now stating simply that the entertainment is "To Be Announced". And yet the News and Products pages on the website still listed The Guess Who.

Caveat Emptor, Guess Who fans! This company has a serious problem with facts and with ineptitude. Emails from Whooligans asking for verification of who is going to be performing on this cruise remain unanswered.



3/18/2005:
Yes, The Guess Who are touring in the US.
No, Burton Cummings and Randy Bachman are not part of the current lineup.
The current lineup consists of original band members Jim Kale (bass), Garry Peterson (drums). Others in the lineup include Carl Dixon (vocals/guitar), Bobby Bilan (guitar), and Leonard Shaw (keyboards/flute).



Webpages/graphics/photos © Copyright 2001 - Present, SW-Originals, S. Woitovich (unless otherwise noted) and may NOT be used without my express written consent. This pertains to all photos and graphics on the www.guesswhofans.com website.

This site is not owned, operated, managed or in any way a part of The Guess Who and their organization.

Last updated: April 19, 2010